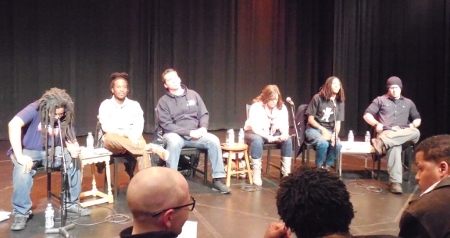 The Jedi Council of Local Hip-Hop: Kevin Beacham, Toki Wright, Slug, Desdamona, Lioness and Guante convened with MPR music writer Andrea Swensson for an open meeting about the upcoming hip-hop showcase slated for the Fitzgerald later this Spring. I was there in the audience but I won't be writing this one up for Vita.mn.
There are two and only two reasons why:
1. There was another Strib writer there and he was taking notes. I assumed he's got this.
2. My general rule is not to cover MPR programming anymore. As an organization, they don't need the press, don't seem to want the press, and make giving them the press harder than it's worth.
I'd rather give the press to someone who wants it and, if this panel discussion was any indication, about half the people in the building were rappers who do indeed want it.
I've been contracting with Vita.mn for about a year. I've only just started expanding my arts & culture coverage to include music. Of all the local music I've seen, hip-hop has the most going on and it gets the least coverage. It should get more, and that's my objective assessment as an award-winning journalist, but there really isn't a dedicated hip-hop beat at Vita.mn. Chris Riemenschneider picks up a story from time to time as a music writer (EDIT: after seeing this, Chris helpfully pointed out that hip-hop artists have been the subjects of about 50% of his feature writing going back some time. In hindsight, "from time to time" was an unfairly low estimate on my part,) but other than that, it's mostly just me.
(And here are these rappers, wanting press, while I'm here wanting to write more about hip-hop... Spread the word.)
I'm not a music writer, though. I cover arts & culture, so I'm gonna have to find an angle that fits within those parameters. That means I won't be able to come out and just review every show going on in town. I'll have to find some way to integrate the story into a broader what-does-this-all-mean perspective. Fortunately, I can do that. At least I've done it before:
Chappelle Shout-Out Boosts Visibility forTall Paul
Cold Flows for Warm Clothes at the Cedar
GRRRL PRTY Wraps Up Icehouse Residency With an Emphasis on 'PRTY'
So if you're any one of the rappers who aired a grievance about the inadequacy of the local media, know that I want your press releases and I want to be invited to your shows, but I can't guarantee that I'll write up everything you do. (Not unless Vita.mn establishes a dedicated hip-hop beat and assigns me to it, but that's another discussion.)
I'm super busy and I won't always have time to seek you out, which is a side effect of being a writer who also wants to eat, but just point me in your direction and I'll notice.