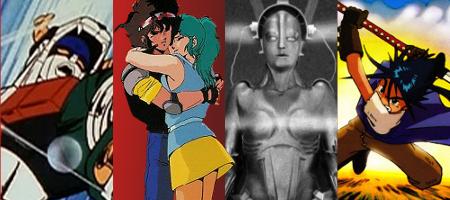 In May, JagerCon will celebrate its roots by digging deep and unearthing some rare gems to honor some of the Twentieth Century's legendary sci-fi/action franchises. Mixing fan films, reconstructions and movies that just aren't unavailable here in the States, we'll pay homage to Voltron, Robotech, Final Fantasy and Fritz Lang's Metropolis. Every Tuesday throughout the month of May at Clubhouse Jager.
For more information on JagerCon, the Original Tuesday Trivia Night, follow our Facebook page. For May's schedule, see below:
May 6 - Voltron: the Movie (Violence Restored Version)
When Beast King GoLion was adapted for an American audience, original content was removed and the story was sanitized to produce Voltron: Defender of the Universe. In this fan edit, episodes of the original U.S. miniseries have been joined together to create a feature length animation, and scenes of death and violence have been restored. Scenes involving Galaxy Garrison have also been removed to achieve a more pure, loyal interpretation of the source material.
May 13 - Metropolis: Unsilenced
Enjoy this 2013 remix production of Metropolis that gives a voice to this amazing Fritz Lang and Thea von Harbou masterpiece. This fan edit adds dialogue and narrative using an audiobook based on the original screenplay, as well as sound design and a modern score, fitting a dystopian film.
May 20 - Final Fantasy: Legend of the Crystals
Set 200 years after the events of Final Fantasy V, this film chronicles the adventures of Mid, who recruits two young adventurers to aid him in his quest to prevent a new evil from rising on Planet R. Together with the young heroes, Prettz and Linaly, along with the sky pirate Rouge and Commander Valcus of the Iron Wing, Mid must recover the stolen crystals and save the world in this English subtitled film.
May 27 - Robotech: the Movie ~ Remastered
After a brief, failed test-run in Texas, the Robotech movie completely disappeared from the United States. When the film negatives were destroyed a decade later, all hope of an official, high-quality American release seemed lost. This was Robotech, though, so it was made by re-editing and overdubbing footage from an existing Japanese anime. Using bootlegged audio, fans were able to reconstruct the film by returning to the source and splicing scenes from the anime series together to recreate the original video.